Image Collection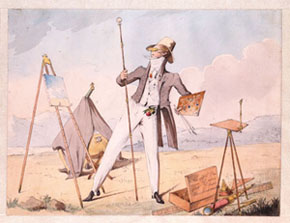 The Image Collection provides a set of illustrations of both the optical drawing devices themselves and the visual products resulting from their use in different fields of application.
For an overview of the Image Collection, click on view whole collection: All images will be shown as thumbnail pictures.
Furthermore the material has been grouped into various categories (Drawing Instruments, Camera Lucida Drawings, Camera Obscura Drawings, Portraits, Miscellaneous) facilitating the use of the database.
The material can be browsed via single thumbnail pictures that lead to the full image with information about provenience, material, dating etc.
The Image Collection is cross-linked with the Electronic library and the Bibliography, so that a direct access to the respective source is possible.
The search function allows the material to be fully searched by author's name, title, year, and medium / technique.